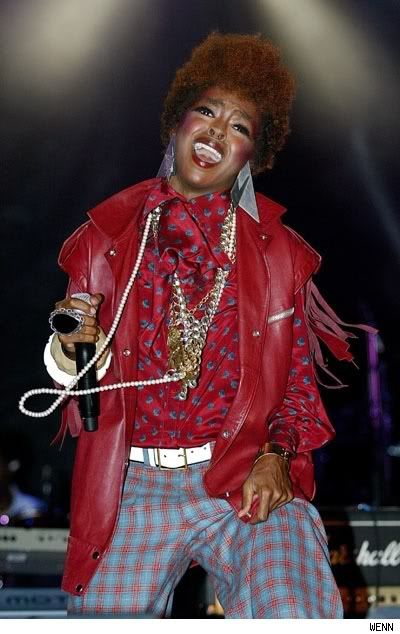 A couple of months ago one of my facebook friends sent me an announcement about the free Lauryn Hill concert in Brooklyn. The first thing that crossed my mind was "Free Lauryn Hill? What did they arrest her for?" Then I realized that Lauryn Hill was was performing for free in Brooklyn. Cool.
The last time (and only time) I saw Miss Hill live was the Fugees reunion performance at Dave Chappelle's Block Party. Even though there was talk of a new Fugees album in the works, I felt there was no way Wyclef Jean and Lauryn Hill could ever collaborate again because their egos had grown so much from the time the Fugees broke up. Still, I enjoyed the Fugees' performance at the Block Party and looked forward to seeing Miss Hill solo.
On the day of the concert the day was overcast. My wife had the day off and when she got there at 5pm for the 7pm show, the line was already around the block. People had started lining up at 2:30pm. By the time the 7pm rolled around, 10,000 people packed Wingate Field and there were thousands more lined up outside.
Some guy I've never heard of, Sean Kingston, came out to warm up the crowd at 7:30pm. His set consisted mostly of his hype man running around the stage yelling "Broooooooklynnnnnnnnn". "Nobody who's really from Brooklyn would ever do that," I told my wife. Thankfully, the set lasted about 15 minutes. Unfortunately, it lasted about 15 minutes too long.
Then the parade of politicians began. According to Brooklyn Borough President Marty Markowitz, Miss Hill was "on her way". Did she not know she was performing that night? Markokwitz proceeded to use the next hour to introduce the Brooklyn audience to all the VIPs- City Council member, State Assembly representative, State Senator, Neighborhood Watch leader, Post Office Master...basically anybody who had any sort of title. Thanks a lot Miss Hill.
9pm came and went. Still no Hill. People with babies and young children began to trickle out. I had heard about Miss Hill's penchant for showing up hours late, but I didn't think she'd pull the diva act at community event. It's one thing to stick it to people who pay $50-$100 to see you, but this was different. These were people who waited in the sweltering heat, people who rushed from work to stand in line for hours even though the forecast threatened thunderstorms. These were people who brought their babies out to hear Miss Hill. And Miss Hill stood them up. Some chalk it up to be Miss Hill being a diva, others believe it's evidence of her alleged insanity- I think it's a sign of the disdain she has towards her audience.
9:30 came and went.
9:45- Finally, Miss Hills set started...with a ten minute instrumental intro. People trickle out. Miss Hill came out and started her performance...which consisted of her yelling over the music. It was hard to understand the words. Her first song was either some Christian hymn or "I love Honey Bunches of Oats". More people trickle out. Miss Hill starts performing "Lost Ones"...spitting the lyrics of "Lost Ones" over the band's music. It seems like she's racing the beat and the beat is winning. At this point thousands of people started streaming towards the exits. I have never ever seen so many people leave during a performance.
More yelling over rock and ska music. A couple of Bob Marley songs...Has this woman written any songs since 2001? Every song ends with a 7 minute instrumental. More people leave. People are wondering why Lauryn Hill needs a band. Remember, this is the woman who denied full compensation and credit to the musicians who worked on her first solo album. "Maybe she just likes having men to order around?" I tell my wife.
The audience is down to about 5 - 6,000. Finally, the band starts behaving like a rhythm section and Miss Hill starts to sing. Ex-Factor is a show stopper. People stop at the exit to listen. Then it's back yelling over rock and ska. Why did she turn "When It Hurts to Bad" to an up tempo song?
11pm- Miss Hill starts to perform Fugees songs. Thankfully, the band starts acting like a rhythm section again. "How Many Mics", "Zealots", "Fugee-la-la"...."Ready or Not" brings the house down. It's really strange hearing those songs without Wyclef and Pras.
11:30pm- "Killing Me Softly". Great. Time to leave while we're ahead. Only about 3,000 people are still there.
I thought overall the concert was uneven. There were flashes of brilliance, but too much yelling over music. When I think about it- the baggy clothes, the 5lbs. of make up she was wearing, the loud band, the yelling...it's so amateurish. It's as if Miss Hill has lost confidence in her singing. She doesn't trust her singing anymore so she hides. So I don't think she's crazy, I think she's scared. Maybe she hit her creative peak between 1996 and 2001 and she just doesn't care any more?
Maybe ?uestlove was right- that her solo album wasn't so much about her being an artist as it was about her not being Wyclef's side girl
? Who knows?
One thing I find irritating is that Miss Hills worshipers...er fans insist that those who left aren't "real fans". If they weren't real fans, why did they stand in line for hours? Why did they wait almost three hours to see her? Why is a "real fan" defined as one who loves blindly and doesn't dare criticize? I think all this "real fan" nonsense is bourgeoisie. It's a way for a self-selected group to make themselves feel good because the rest of us "just don't get it". Yeah right. Could it be that the people who left simply have better things to do than listen to a woman yell over music? Could it be that they weren't happy that they waited hours in line and then another three hours? I think everybody who showed up that night is a real fan. I'm not so sure Miss Hill is a fan of fans after her behavior.
Here's another review of the fiasco from the Village Voice that's spot on.