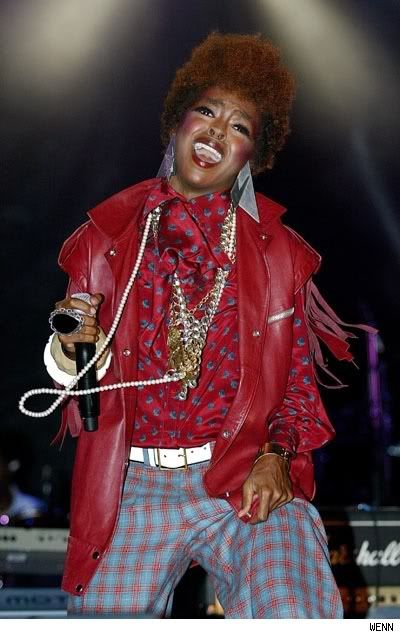 A couple of months ago one of my facebook friends sent me an announcement about the free Lauryn Hill concert in Brooklyn. The first thing that crossed my mind was "Free Lauryn Hill? What did they arrest her for?" Then I realized that Lauryn Hill was was performing for free in Brooklyn. Cool.
The last time (and only time) I saw Miss Hill live was the Fugees reunion performance at Dave Chappelle's Block Party. Even though there was talk of a new Fugees album in the works, I felt there was no way Wyclef Jean and Lauryn Hill could ever collaborate again because their egos had grown so much from the time the Fugees broke up. Still, I enjoyed the Fugees' performance at the Block Party and looked forward to seeing Miss Hill solo.
On the day of the concert the day was overcast. My wife had the day off and when she got there at 5pm for the 7pm show, the line was already around the block. People had started lining up at 2:30pm. By the time the 7pm rolled around, 10,000 people packed Wingate Field and there were thousands more lined up outside.
Some guy I've never heard of, Sean Kingston, came out to warm up the crowd at 7:30pm. His set consisted mostly of his hype man running around the stage yelling "Broooooooklynnnnnnnnn". "Nobody who's really from Brooklyn would ever do that," I told my wife. Thankfully, the set lasted about 15 minutes. Unfortunately, it lasted about 15 minutes too long.
Then the parade of politicians began. According to Brooklyn Borough President Marty Markowitz, Miss Hill was "on her way". Did she not know she was performing that night? Markokwitz proceeded to use the next hour to introduce the Brooklyn audience to all the VIPs- City Council member, State Assembly representative, State Senator, Neighborhood Watch leader, Post Office Master...basically anybody who had any sort of title. Thanks a lot Miss Hill.
9pm came and went. Still no Hill. People with babies and young children began to trickle out. I had heard about Miss Hill's penchant for showing up hours late, but I didn't think she'd pull the diva act at community event. It's one thing to stick it to people who pay $50-$100 to see you, but this was different. These were people who waited in the sweltering heat, people who rushed from work to stand in line for hours even though the forecast threatened thunderstorms. These were people who brought their babies out to hear Miss Hill. And Miss Hill stood them up. Some chalk it up to be Miss Hill being a diva, others believe it's evidence of her alleged insanity- I think it's a sign of the disdain she has towards her audience.
9:30 came and went.
9:45- Finally, Miss Hills set started...with a ten minute instrumental intro. People trickle out. Miss Hill came out and started her performance...which consisted of her yelling over the music. It was hard to understand the words. Her first song was either some Christian hymn or "I love Honey Bunches of Oats". More people trickle out. Miss Hill starts performing "Lost Ones"...spitting the lyrics of "Lost Ones" over the band's music. It seems like she's racing the beat and the beat is winning. At this point thousands of people started streaming towards the exits. I have never ever seen so many people leave during a performance.
More yelling over rock and ska music. A couple of Bob Marley songs...Has this woman written any songs since 2001? Every song ends with a 7 minute instrumental. More people leave. People are wondering why Lauryn Hill needs a band. Remember, this is the woman who denied full compensation and credit to the musicians who worked on her first solo album. "Maybe she just likes having men to order around?" I tell my wife.
The audience is down to about 5 - 6,000. Finally, the band starts behaving like a rhythm section and Miss Hill starts to sing. Ex-Factor is a show stopper. People stop at the exit to listen. Then it's back yelling over rock and ska. Why did she turn "When It Hurts to Bad" to an up tempo song?
11pm- Miss Hill starts to perform Fugees songs. Thankfully, the band starts acting like a rhythm section again. "How Many Mics", "Zealots", "Fugee-la-la"...."Ready or Not" brings the house down. It's really strange hearing those songs without Wyclef and Pras.
11:30pm- "Killing Me Softly". Great. Time to leave while we're ahead. Only about 3,000 people are still there.
I thought overall the concert was uneven. There were flashes of brilliance, but too much yelling over music. When I think about it- the baggy clothes, the 5lbs. of make up she was wearing, the loud band, the yelling...it's so amateurish. It's as if Miss Hill has lost confidence in her singing. She doesn't trust her singing anymore so she hides. So I don't think she's crazy, I think she's scared. Maybe she hit her creative peak between 1996 and 2001 and she just doesn't care any more?
Maybe ?uestlove was right- that her solo album wasn't so much about her being an artist as it was about her not being Wyclef's side girl
? Who knows?
One thing I find irritating is that Miss Hills worshipers...er fans insist that those who left aren't "real fans". If they weren't real fans, why did they stand in line for hours? Why did they wait almost three hours to see her? Why is a "real fan" defined as one who loves blindly and doesn't dare criticize? I think all this "real fan" nonsense is bourgeoisie. It's a way for a self-selected group to make themselves feel good because the rest of us "just don't get it". Yeah right. Could it be that the people who left simply have better things to do than listen to a woman yell over music? Could it be that they weren't happy that they waited hours in line and then another three hours? I think everybody who showed up that night is a real fan. I'm not so sure Miss Hill is a fan of fans after her behavior.
Here's another review of the fiasco from the Village Voice that's spot on.
The Disorientation of Lauryn Hill
Wherein a volatile r&b superstar wrestles a hostile crowd to the ground
by Rob Harvilla
August 14th, 2007 12:45 PM
You'd have had an easier time breaking into prison than infiltrating Lauryn Hill's free show in Brooklyn last Monday night. For one thing, prisons have fewer cops. By the time the show started at 7:30 p.m., police officers had cordoned off seemingly 10 square city blocks surrounding Wingate Field, bluntly batting off hundreds of aghast fans clutching folding chairs and clamoring desperately for some magical excuse. I know Lauryn! I'm with the press!
I live here!
It was a glorious clusterfuck sadly apt given its star attraction, the monumentally talented pop-r&b priestess who rose to power with the Fugees (posited as the Future of Rock on the cover of Rolling Stone) and launched her solo career with the resounding Miseducation of Lauryn Hill, which hit late-'90s college dormitories like a wrecking ball. She has floundered since, an avalanche of missed opportunity, cruel rumor, and press hysteria, a Whitney Houston/Guns N' Roses hybrid whose shows as of late have reached Cat Power levels of unpleasantry. (Oakland was not amused.) The jilted fans stuck a solid half-mile from Monday night's action groused that it didn't matter; she probably wouldn't show up, and would flame out horrifically after two songs if she did. During a desperate cell-phone chat with a photographer camped out inside Wingate itself, I could clearly hear unshakable Brooklyn Borough Prez Marty Markowitz on the stage Lauryn should've taken already, trying to soothe a savage beast of a crowd that had beat the police barricades but now stood primed for disappointment and disgust.
At about 9:30, a kind colleague having valiantly bashed us through, we enter Wingate Field proper and encounter an ugly, ugly scene. Opening act Sean Kingston—the teenage reggae-lite sensation who sired "Beautiful Girls," the "This Is Why I'm Hot" of summer 2007—wrapped it up an hour ago, heroically stretching out his show to the apparent amusement of no one. The dude next to me is now jeering our star attraction in advance. He is impatient. "I hope everyone boos her and after two songs just leaves," he growls. Markowitz, meanwhile, has rematerialized with a rousing, confidence-building introduction: "Her voice may be a little rough. She's just done a ton of shows in Europe." Duly noted. Lauryn's band hits the stage, an unwieldly jazz-funk orchestra that lays into some horn-saturated fanfare. "Oh, so she's the queen now?" growls the Growler. "She's not here. They were lying. They were lying."
The crowd at large shares the Growler's disaffection, as Lauryn's DJ/hype man now discovers.
DJ: "How y'all doin' tonight?!"
Crowd: [Silent, simmering rage.]
DJ: "Brooklyn! Get your hands up!"
Crowd: [Does not get hands up.]
Lauryn appears.
With a fierce, rusty shock Afro, she looks like funk diva Betty Davis, and looks like Betty Davis sounds. Rough. Like trouble. The band rushes headlong into a violent, jumbled, almost aggro-gospel number, mingling backing chants with Lauryn's malicious, inarticulate rasp. Her voice is shot to hell, and she shows it no mercy, not so much singing as screaming.
After 10 minutes of this, she stops to assess the situation. "Where Brooklyn at?" she asks. Brooklyn is at wit's end. "What took you so long?" demands one voice. "Sing something we know!" thunders another.
Lauryn: "We gonna do some new things!"
Crowd: "Uh-uh!"
Lauryn [hurriedly]: "And we gonna do some old things!"
Crowd: "Yeahhhhhh!"
Lauryn then launches into an old thing that sounds new, as in unfamiliar, as in undesirable, as in uh-uh. To an extent, it's "Lost Ones," a seething, precise Miseducation kiss-off now fed through her band's muddy, cacophonous war machine, a thrashing monolith that disregards swing and heads straight for vaporize. Lauryn's voice is a breathless bluster, endlessly repeating the song's hook—"You might win some, but you just lost one"—like a nervous mantra. It's angry, vicious, unpleasant by design. "It makes my throat hurt," notes my sympathetic companion. The crowd ain't having it. People are leaving. A lot of people.
Song ends. Wan applause. Lights go down. Twenty seconds pass. Crowd stirs anxiously. Several teenage girls behind me start exuberantly singing "Killing Me Softly," a big hit for the Fugees. The crowd applauds that. "Louder!" someone shouts. No movement onstage. This show is over.
Except it's not. It's just begun. It will go on for another two hours. Rumble on. Drag on. Toward redemption. The lights go back up, and Lauryn launches into "When It Hurts So Bad" ("When it hurts so bad, why does it feel so good?"), her voice better actually, the band coalescing around a filthy funk riff. Better. Some applause. The girls behind me start singing "Doo Wop (That Thing)," Lauryn's biggest hit. People are still leaving. The Growler is long gone.
"This is a song off Miseducation called 'Final Hour,'" Lauryn announces. "Don't you know it?" This is an honest, frustrated question. Her insistence on mutating five-minute pop hits into 10-minute formless jams is alienating the crowd. (No one likes it when Prince does this, either.)
But first she has to earn a positive reaction from us at all. For a half-hour, this show is absolutely terrifying, a volatile star versus a sweltering, irritated crowd. Apocalypse looms. But Lauryn turns the corner with "Ex-Factor," a bruising, anguished ballad of tough love and self-abuse that earns giddy audience screams upon recognition. "When I try to walk away/You hurt yourself to make me stay/This is crazy," Lauryn wails, sounding not a little crazy herself. It's a song of passion and desperation now sung by someone with plenty of both, who realizes she's losing a crowd that probably assumes she's losing her mind—and maybe she is. But as her vocals dissolve into shrieks and wails, she starts winning us over. "You said you'd die for me/I want you to live for me," she wails at Brooklyn; Brooklyn gets its hands up. She starts chanting either "I want you to live" or "I don't want you to leave," or maybe (probably) both. The audience roars. Triumph.
Still 90 minutes to go, though, much of it a slog—bits of Nina Simone's "Sinnerman" and Bob Marley's "Hammer" and numerous other shout-outs welded awkwardly to Lauryn's own catalog. Her singing sounds incredibly painful; her rapping just
is
incredibly painful. She shreds her vocal cords further by goading the band:
Pick it up pick it up pick it up
. She gnaws off another ballad, "The First Time Ever I Saw Your Face," frail and frayed and unhinged in a way you can't fake. "How Many Mics" as a nearly atonal basher with a metalhead edge. "Killing Me Softly" as wayward, meandering jazz. What's left of the crowd—about 25 percent of what Lauryn had initially greeted—whoops louder as we conclude, after midnight, with "Doo Wop," but not before a brief snippet of "Will You Still Love Me Tomorrow," a joke that's not really funny. Everyone who remains will still love her, but those who've already left—an army of fed-up Growlers—never will again. Nonetheless, Lauryn stands triumphant, content to win some even after losing one after another. I'm glad I never have to see this show again.